Wednesday Feb 10, 2021
Ep. 15 Writ in water, lemon juice or invisible ink? Adam Smyth examines John Keats' epitaph as material text.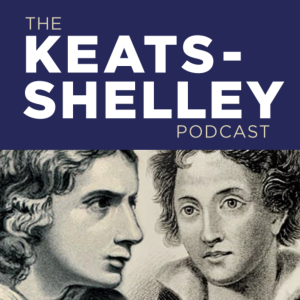 What does it mean to writ(e) in water? And even more, what does it mean to write 'writ in water' on stone? Or is that in stone? These are all questions raised by John Keats' epitaph, 'Here lies one whose name was writ in water'. Which is why the Keats-Shelley Podcast called Adam Smyth, Professor of English Literature at Balliol College, Oxford, and an expert in Material Texts: or the study of people writing with weird things on weird surfaces.
Subscribe to the Keats-Shelley Podcast or Follow us on Spotify.
We began by asking Adam to describe what a 'material text' might be, and what it means to study them. As well as telling us about poems written in glass and invsible ink (lemon juice to you and me), he cast an eye over Keats' epitaph, and pondered the fine distinction between writing 'in water' and 'on water'. 
Visit the Keats-Shelley Blog for more Prize Resources, including poems, articles and podcasts.
Texts.
Fans of Tom Philips' A Humument: stay tuned to the very end of the podcast for a little lighthearted homage. 
Subscribe to the podcast for all new episodes.  
Follow us on Twitter
Like us on Facebook
Follow us on Instagram
Subscribe to us on YouTube
This podcast was written and presented by James Kidd. The KS Podcast theme tune is 'Androids Always Escape' by Chris Zabriskie. Visit http://chriszabriskie.com/